December 22, 2022
5 Benefits When You Hire Residential Cleaning Services
No matter how meticulously you carry out the day-to-day chores, eventually, your house will need a deeper and more thorough cleaning job. Even though you manage to keep up with the regular responsibilities of cleaning your home, the need for deep cleaning is inevitable.
Consider hiring a professional cleaning service so you won't have to deal with the hassle of bringing out the buckets, brushes, mops, and other specialist cleaning equipment. With residential cleaning services, you can leave all the dirty work to the professionals and focus on more important things.
When it comes to residential home services, hiring the best residential maid for cleaning your home has a number of advantages, the top five of which are listed below.
Clean Air Inside The Home
It should come as no surprise that breathing healthy and clean air is preferable. 
Unfortunately, dirt, dust, allergies, pet dander, and other hazardous pollutants can build up over time. Older homes are more likely to be exposed to dangerous substances, including asbestos fibers, lead dust, and other infections. 
A complete cleaning performed by a trained expert is an essential component in maintaining the quality of the air inside your home so that it is fresh, clean, and conducive to good health.
Dust and grime are drawn to a variety of surfaces, such as home carpet cleaning, area rugs, air duct cleaning, drapes, blinds, and upholstered furniture. These surfaces should be cleaned regularly. 
To prevent accumulation, they should be cleaned regularly. This involves removing dust and grime that has become embedded in the fibers and any severe stains.
In addition to giving the appearance that your home and furnishings are dirty, motions and impacts cause toxins to be released into the air, which makes the situation much worse.
Take Time To Relax
You can keep your house tidy by devoting a lot of time to the task but is it the most productive use of your time? Engage the services of a talented group of individuals, and put the extra time you gain toward pursuing other interests, such as schooling, spending time with your family, or simply unwinding. 
If you hire a cleaning service to take care of your home's chores, you'll have more time to devote to the things that bring you joy—whether that's simply sitting around, reading, or watching back-to-back episodes of your favorite shows in a pristine environment. You can enjoy the fact that it all occurred without lifting a finger.
Long-Term Savings
The value of your furnishings, carpets, draperies, and blinds cannot be overstated. They will begin to degrade if they are not given a regular deep cleaning that is carried out using the appropriate tools and processes. When this happens, the fabric fibers in the carpet, upholstery, and drapery all break down, and the blinds lose their smooth surface. 
It's possible that if you clean these pricey items on a regular basis, you may extend their lifespan and maintain them in good shape for a longer period of time. Many residential customers make the astute decision to have this supplemental service performed once every six months on their carpets and blinds. 
Calling on professional cleaning staff to thoroughly remove all impurities and restore your belongings will help you stave off the natural degradation of the fibers and surfaces of your things. The results produced by our truck-mounted carpet cleaning equipment are unquestionably superior.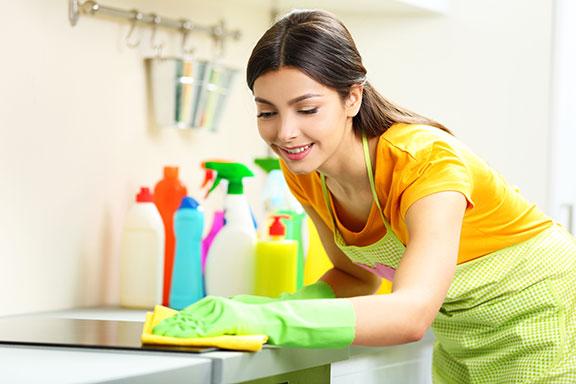 The Right Tools
No matter how vigorously you scrub or mop, the equipment and materials you use are less effective at cleaning than the tools and products used by professional cleaners. 
When it comes to domestic cleaning, having the appropriate equipment makes all the difference in the world. Professional home cleaning service providers have access to state-of-the-art equipment and resources, allowing them to achieve optimal results promptly.
Some everyday items you can expect the best residential maid to clean your home using include powerful vacuums, specialized cleaning solutions, and high-quality mops. In addition, house cleaning services have the option of using steam cleaning on upholstered furniture, carpets, and other upholstered surfaces.
A group of highly skilled professionals who take an incredible amount of pride in their job and pay great attention to the tiniest of particulars has the ability to perform their work well, which includes restoring grout and tile in addition to other surfaces such as granite, stone, and cement. 
As a result, you won't have to spend hours scrubbing away stains on tile and grout.
Save Time
The importance is not in the length of one's life but in the standard of that life. Should you spend your limited spare time cleaning when you might be enjoying your time off? 
When you hire professionals to clean your home, they will arrive promptly and complete the task in a manner that meets your expectations. 
The residential cleaning service you choose will let you enjoy your time off rather than spend it scrubbing and mopping. With the residential maids from this reputable company on the job, you can rest easy knowing that your home is immaculate. 
Schedule An Appointment Today!
At Maid in T.O., we can provide residential cleaning services for your residential home. Whether you need help keeping your home looking immaculate regularly or need an intensive deep clean, we are the professionals to trust. Arrange an appointment with us and learn more about our residential cleaning services. We are excited to assist you in keeping your home clean so that you may continue to take pleasure in it for many years to come.