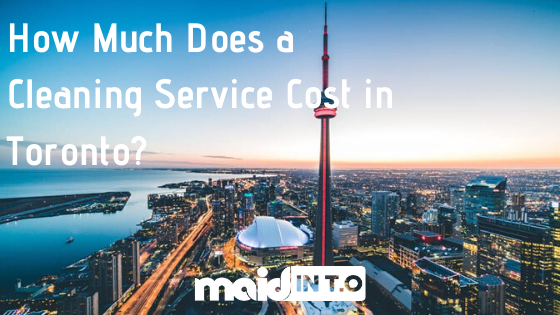 March 9, 2022
How Much Does a Cleaning Service Cost in Toronto?
For many people, living in Toronto means living a life that is as fast-paced as this city. The cost of living may be high in our first-class city, but people are turning towards self-care more than ever in order to buy back time to spend with their loved ones. One of the most common questions that we come across from those that are seeking a cleaning service for the first time is, "How much does a cleaning service cost in Toronto?" We've put together a few key points into what you can expect to pay for a cost cleaning service in Toronto versus the reasons why.
Hiring an Individual Cleaner
In Toronto, you will find yourself overwhelmed with multiple options for individual cleaning services. There are individuals offering their services on platforms such as Kijiji, Facebook Marketplace, and Care.com, as well as others. You can expect to pay a set hourly rate for individual cleaners, usually between $15-20 per hour. Although many of them are hard-working, they may or may not carry insurance and you will have to put in the legwork to search for, interview, hire and manage your cleaner. For some people, this method works great, especially if the person came referred by a friend or family member. Some cleaners even stay with families for many years. However, the amount of time managing and paying in cash can be cumbersome for many.
Hiring a Cleaning Company
With time being an issue in double-income households, many people look to individual cleaning services that invest their time and energy into staffing experienced cleaning professionals. They take care of everything that would put their customer's minds at ease during the hiring process and ensure that each employee or contractor goes through a police background check to the processes and systems put in place to ensure that a client's experience is seamless. While some companies, especially large corporate brands, will charge you an hourly rate that may fall anywhere between $25-$30 per hour, others may charge you a fixed rate and provide a detailed checklist on what is covered within each rate section.
A company, such as Maid in T.O, functioning under a flat rate model may charge anywhere between $110-$130 for a one-bedroom condo standard individual cleaning service in Toronto. Although some people may find going with a cleaning company more expensive than hiring a freelancer, they enjoy multiple benefits that factor into the service fee. Some of these benefits for customers include the security of knowing that their home is in the hands of a registered and insured company, getting the same cleaning professional assigned to their appointments, a low turnover rate associated with the company, a user-friendly platform that they can use to create and manage their bookings and payments as well as customer service that can handle any issues related to their cleanings. 
What Can I Expect from a Flat Rate Model
At Maid in T.O, we follow a flat rate model for standard home cleanings that allows us to focus on delivering a quality cleaning service using a detailed checklist versus a select number of hours booked for by the client. This type of model provides ease for both the customer and the cleaning professional as it lays out exactly what is covered under the package purchased. It includes the cost of cleaning services in Toronto and the rate for individual cleaning services. You can expect a better cleaning experience from a flat-rate cleaning model as it allows a customer to truly sit back and relax while a cleaning professional does the work because they would not have to relay to the cleaner what they need cleaning in a select number of hours booked. This also eliminates the guesswork over how many hours a customer should book for their home.
Whether you choose to book a freelance cleaning individual or a registered cleaning company, outsourcing this essential household task can make your life infinitely easier. Especially since Toronto has many other things you can do than clean your home! Just find the right company with a good cost of cleaning services in Toronto and you're good to go!