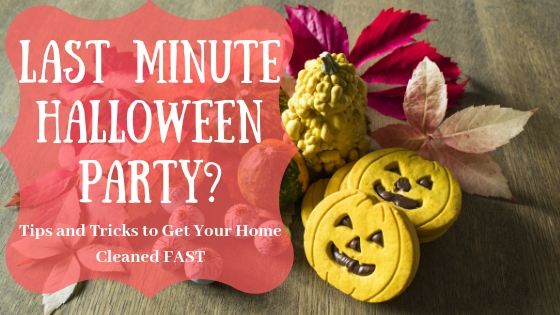 October 31, 2018
Last Minute Halloween Party Tips and Tricks
Halloween Party Tips and Tricks
What's spookier than having guests over on Halloween night and NOT having a clean home? Though we're sure those cobwebs make for great decor, they're definitely not the best idea!
If you woke up on October 31st and decided that you were going to throw a last-minute Halloween bash or invite a few friends over for some spooky eats and scary movies, then this post is for you. Dive into our cauldron of secrets to get your home spic and span before the ghosts and goblins float on into boogey the night away.
Get the Food & Groceries Delivered to Your Home
Let's be honest, it's a busy day and you planned this last minute — so, the last thing that you will want to be doing is slaving over your stove cooking a meal to feed those hungry gremlins. Luckily, we live in a time where we can place an order from our phones and be home just in time for restaurant or grocery delivery.
While you are at work or running errands throughout your day, grab your phone and use an app to schedule food and grocery delivery. You can add Halloween-themed desserts and baked items to your grocery carts along with drinks, sides and even decor! Order a few cheese pizzas and add the pepperoni yourself to resemble a jack o' lantern.
Quick Declutter
Grab a basket and start tidying up the main rooms that your guests will be in. Pick up any loose items and dump them into the basket. You can sort it out later. You're crunched for time so make the most of it! Grab whatever you see that does not belong in that room and throw it in. Hide the basket in a room where the guests won't be entering. We're getting spooky already, aren't we? 😉
30 Minute Clean up
We're strapped for time, right? You've got guests coming and you don't want to spend too much time on this daunting task (because let's be honest, you have other [read: more important] things to worry about like how will you make your table look like it stepped out of a horror film…).
Let's start with your furniture surfaces. Grab a microfiber cloth (we love these!) and run it along the surfaces of your home, trapping any dirt or debris there is. You can follow up with polish if you please.
Next, focus on whatever bathroom the guests will be directed to use. Focus on the main areas such as scrubbing the toilet and sink and mopping the floors well. If you have a standing shower and can't draw the curtains to hide a messy tub, spray it down with a shower cleaner or use a mixture of vinegar and baking soda in a spray bottle, wait a few minutes and then hose it down with water. Use a squeegee or cloth to wipe down excess water.
Sweep the floors throughout and vacuum the rugs. Follow up with a quick mop.
Lastly, wipe down all kitchen counters and appliances.
Whether it's a last-minute get-together or a full-blown monster bash, these tips will help in ensuring you have a stress-free evening full of tricks and treats!
Seems like too much work on party at home? Leave the cleaning to us! Book your next residential cleaning services today with our Maid in T.O team.