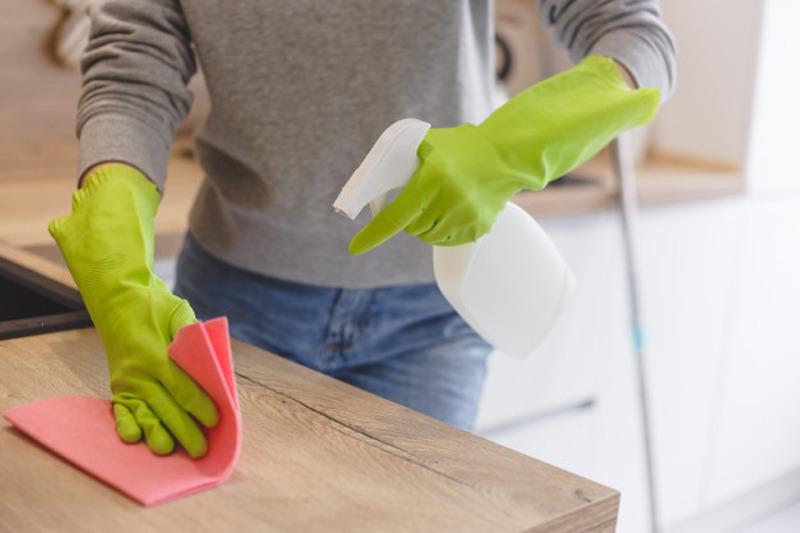 December 10, 2022
What are the 3 stages of cleaning?
We often get asked what's involved with cleaning, especially our basic cleaning services in Toronto. When it comes to cleaning, there are generally three stages: cleaning, disinfecting, and sanitizing.
Surface cleaning is the most basic level of cleaning and simply involves removing dirt, dust, and debris from surfaces. Disinfecting is the process of killing microorganisms on a surface. Disinfectants are chemicals that kill certain types of bacteria and viruses. 
They are often used in healthcare settings, such as hospitals and clinics, because they can kill pathogens that can cause infections. Sanitizing is a more advanced level of cleaning and involves the use of chemical disinfectants. Sanitizers are substances that can kill microorganisms.
Without getting too deep into the science of it, let us understand the 3-stage cleaning process that we follow at Maidinto.
The 3 stages of cleaning that we follow

Stage 1: Cleaning
The first and the most important of all the three stages of cleaning is the cleaning stage. Our team of professional cleaners uses a wide variety of cleaning products such as detergents, disinfectants, and all-purpose cleaners to clean your home.
We make sure to clean every nook and cranny of your home, including the dusting of all surfaces. It is important to us to ensure that your home is clean and tidy, as we know how important it is for you to have a clean home. 
We even pay attention to the cleaning of appliances such as your refrigerator and dishwasher, making sure that they are spotless when we leave. The products that we use for your cleaning are safe for your family and pets.
Another part of the cleaning process is our mopping of floors. We mop all surfaces of your home, including carpets, hardwood floors, tile floors, and other surfaces. This process is both thorough and efficient, and will leave your home looking like you just moved in.
The last part of the cleaning process is our dusting of surfaces. We dust all surfaces of your home, from tables to countertops to window sills. Dust accumulation can be a problem in any home, but we make sure that your homes surfaces are clean and dust free.
Once we are done with your cleaning, we move on to the next step that is disinfecting your home.
Stage 2: Disinfecting
After we have finished cleaning your home, it is time to disinfect everything. We use a solution that kills germs, bacteria and other harmful pathogens. This solution is safe for you and your family, but is extremely effective at killing disease causing organisms.
A very common cause for diseases among the entire population is airborne pathogens, which we eradicate from your home. Our cleaners make sure that your home is free of these disease causing organisms by disinfecting all your furniture, floors and other surfaces.
Furthermore, we also make sure that your home is as clean as it can be. The solutions we use are effective and well-tested, and they are also safe for your family and pets.
After we are done disinfecting your home, we move to the final step that is sanitizing your home.
Stage 3: Sanitizing
We sanitize your home by making sure that all the dust, dirt and grime is removed from it. This will ensure that you are left with a clean home, free of all the contaminants that can cause disease.
This step is crucial as it will ensure that your home is completely clean. Living in a clean home is a healthy lifestyle, and that is what we aim to provide. When our team is done sanitizing your home, you can be sure that you will be left with a home that is free of all contaminants.
The difference that our team makes is noticeable and the end result is something that you will be proud of. We leave your home clean, sanitized and ready to use.
How Can Our Services Help You?
Our professional cleaning company, Maidinto, has been in this business for years, and we have cleaned countless homes in Toronto. We have fine-tuned our cleaning services to ensure that they are effective and fast. 
We have invested in the best supplies and equipment, and we always ensure that we use them at their full potential. Our team is fully trained to deliver expert cleaning services, and they are ready to tackle any challenge.
Whether you need a single room cleaned or the entire house, we will deliver quick and efficient cleaning services. Our aim is to provide you with the best results possible. Our services are available throughout the week, so if you have any cleaning needs, we can be there to help you.
It does not matter if you want a single room apartment to be cleaned or a big house, we will be there to help you. Contact us today to learn more about our cleaning service in Toronto.